But how does Morse Code work?

Well, we will only discuss the 'coding' technique here, although, its main popularity and strength lies in its property to be easy-to-transmit, just by using on-off tones, flashes of light, or clicks, etc.; and to be easy-to-recieve by any skilled person who knows the 'coding-scheme'. In fact, it's the 'coding-scheme' that we will see now, and that's all how it works.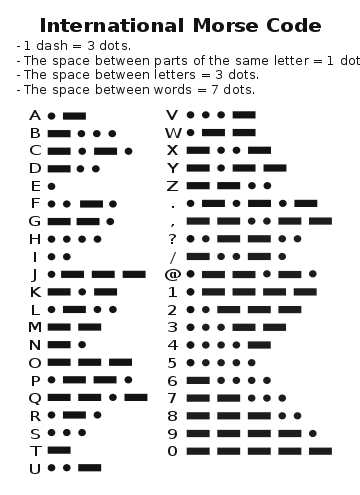 Exactly as it looks in the image above, each letter or character corresponds to some pattern of dots and dashes; and so, each character in the message is encoded correspondingly.
And when you need to decode a morse code message, that's just the reverse of encoding process. A set of dots and dashes correspond to some specific character; and so, the all the grouped dots-and-dashes are converted back to their respective character. For an example:
SOS becomes ...---...
("SOS" is also considered as the standard emergency/distress signal!)
That's it. That's morse code.
Note that in the digital implementation of morse code (that you can use in 'Tool' tab), some small changes have been done; like, 'space' between words is represented by '/', and one dash does not equal three dots in length, etc... But the rest of the encoding scheme is same, and works fine if used properly (Improper use, like, encoding an already-encoded morse-code-text will be of no use! So, just be careful of those kind of errors! Otherwise, it's all fine.)